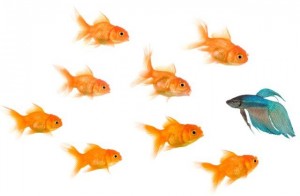 Throughout the years, I have seen many companies striving to claim thought leadership. Although many brands have the potential, only some actually succeed and few are able to maintain it. Which poses the question: why is it so difficult to become a thought leader?
Actually, before we dive into that question, let's have a look at what thought leadership is and what are some of the best practices. To come up with a single definition is not easy, but I really like the following one that Shel Israel uses in an article on Forbes.
"A thought leader is someone who looks at the future and sets a course for it that others will follow. Thought leaders look at existing best practices then come up with better practices. They foment change, often causing great disruption."
As Shel rightly points out, thought leadership doesn't actually exist until others are following and until existing business models adjust course to follow the thought.
And the business value of thought leadership? To associate your brand or company with the questions your buyers are asking. It enables brands to become part of the conversation. It creates engagement with customers and prospects, and ultimately drives revenue. Particularly in B2B environments, customers are not just looking for a product or service that solves today's problems. In the current economic climate they also need to justify their investments in the long term. In other words: Customers want to know how you will continue to support them as their needs and challenges change over time. Thought leadership enables you to address just that, as it is inherently a look into the future.
Some great examples of thought leaders include IBM and Accenture. Accenture's claim is that they know and consistently research what drives great organizations. IBM consistently invests in thought leadership with many programs, including their Smarter Planet initiative. To find out how thought leadership is driving their business, be sure to check out this presentation.
Now back to the initial question – what makes thought leadership so difficult to achieve? From what I have seen, most of it comes down to three key things: commitment, time and budget (you could even argue that time and budget are also part of being committed). Let's have a closer look at these elements and why they are so important.
Commitment
First of all, no one becomes a thought leader overnight. If you closely examine successful thought leaders like IBM and Accenture, you will see that they have consistently been sharing and refining their vision for some time. After a while they reached a tipping point, and that's when they started getting traction. The paradox here is that the stronger your vision is, the harder it is to get recognized for it. As you look further ahead in time, the gap between what is now and what you predict will happen in the future, becomes wider.
Time & budget
Time is money. If you don't have the time or production skills to develop great content in house, you will need budget to outsource content creation to external parties. If you don't have the budget, you will need to look for internal resources. If you have neither, but still want to be a thought leader, you may have a problem. The creation of thought leadership content cannot be underestimated, as it needs to be original and stand out from all the rest. Moreover, it doesn't just take time to create great content. Developing a strong vision and investing in market research can be equally demanding.
So how do you go beyond these challenges?
The good news is that many brands have the potential to become a thought leader. Successful thought leaders deal with the same challenges as everyone else, so what is it that they do different? In the first place, they understand the importance of commitment and make sure they have top level management buy-in that goes beyond just the next white paper they're producing. They stick to their program, even when they are not immediately listened to, whilst keeping their eyes and ears open to adapt and refine.
As the underlying signs and trends that support a vision may not be as obvious in the beginning, thought leaders need to be able to provide their own evidence, be prepared to refine their vision based on new developments and to battle any contradictory trends that they feel are just temporary. In other words: Successful thought leaders firmly believe in the validity of their vision and will stick to it for many years. They don't let themselves be discouraged when they're not immediately listened to and they realize that just the occasional white paper or blog article will not get them to a thought leadership position.
Secondly successful thought leaders set aside budgets and time dedicated to developing a vision and the creation of content over time. Obviously, developing a strong vision takes time. In general there are three starting points: Some companies were founded on a vision, some just started because they saw an opportunity in the market, and a large group is somewhere in between. Whatever your starting point is, to become a thought leader it is essential to invest time in market research. A strong vision ideally outlines how a brand supports its customers and adds value. It is not just based on Unique Selling Points.
Finally successful thought leaders decide on objectives and how they will measure success. They create a solid business case in advance, not just to convince their management but also as a way of shaping the direction they want to go and to create a roadmap for their content and the platforms they want to be on. It's difficult to say how long you should be prepared in thought leadership before seeing any bottom line results, but it will help when you break down your long term objectives into shorter term goals. These goals could be as simple as measuring traffic or likes and shares on social platforms, just to see if your content is resonating. But don't forget that eventually any thought leadership program needs to have an impact to bottom line results.
Tags: thought leadership